Staff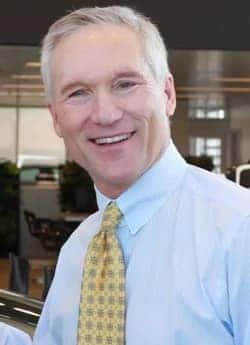 How did you become a car dealer? Did you always aspire to be part of the automotive industry?
Well, no and yes. My path to becoming a dealer was certainly not linear. My grandfather, John Lloyd Tysinger ran the Economic Meat Market on Queen Street. But, his true passion was in automobiles and he took great pride in being able to identify cars just by the sound of their engine. In 1926 he opened up Tysinger Automotive Family as a General Motors dealer, behind his meat business, so he would leave one to attend to the other. He eventually switched to Chrysler in 1932. In 1964, he took a huge risk in becoming a Mercedes-Benz dealer in a blue-collar town. Naysayers tried to convince him otherwise, saying a Mercedes-Benz dealership would never be successful in Hampton. My grandfather proved them wrong, becoming a very successful and well-respected business in the community.
My grandfather passed away in 1977, and my dad, Lloyd, took over the dealership along with my uncle, Bob Tysinger. They ran the dealership together for many years. I worked in the dealership in 1979 and 1980, selling cars. Selling cars at the dealership at the time involved a lot of standing around and waiting, and I just don't stand and wait very well. I left the dealership to go to law school – for some reason I thought I would stand less! I practiced law in Norfolk for a while, and enjoyed it. Then, in 1986, I got the call. My dad and uncle were retiring, and if I wanted to buy the family business, now was the time. It was then or never.
I am very fortunate. I think a lot of people never have the opportunity to choose between two really good life options, and thanks to my family business I did. As I look back, I had been away from the family business, making my own way, for enough time to objectively look at the dealership and weigh the family legacy as a fit for me and my family.
I chose the dealership, and I am happy I did. I love this industry.